Zorg voor een schone kabel.
Laat de aangekochte kabel gewoon op de haspel zitten. Voor we de lus aan de kabel gaan maken kijken we eerst of de kabel strak afgeknipt is.  Bij het knippen is het volgende belangrijk dat de kabel recht, rond en zonder uitsteeksels afgeknipt word.  Een speciale staalkabelknipper heeft een ronde bek en zorgt ervoor dat de kabel ook na het knippen rond blijft.
Tip: Als u de kabel niet goed afgeknipt krijgt gebuik dan een plakbandje om de kabel. Knip de kabel vervolgens door op het midden van het pakband. Vooral handig bij dunnere staalkabel.

Welke Kabel gaat u gebruiken?

Verzinkt: Bij verzinkte kabel kunt u draadklem 741 verzinkt gebruiken. Dit zijn de meest gebruikte draadklemmen en vind u hier: Draadklem 741
Geplastificeerd: Voor geplastificeerd kunt u de Draadklem 741 ook gebruiken.
Rvs:Voor de roestvrijstalen kabels zijn de draadklemmen met moeren in rvs geschikt deze vind u hier: Draadklem met moer RVS

Welke maat draadklem kunt u gebruiken?

De maatvoering kan soms verwarrend zijn omdat deze soms met engelse maten (inches) aangegeven word. Draadklem 3mm is bijvoorbeeld geschikt voor 3 mm staalkabel. Deze past er dus 2 keer in.

De installatie

Controleer of u de juiste draadklem bij de juiste kabel heeft. Dit voorkomt een zwakke of slechte constructie.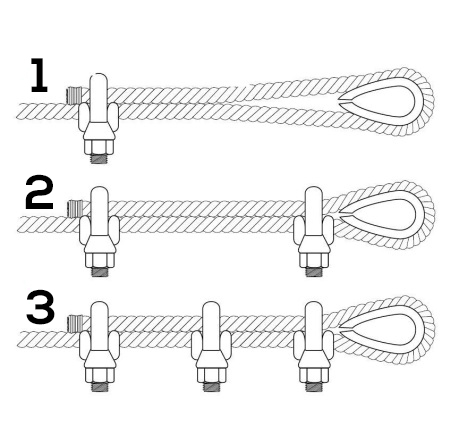 1. Maak een lus door de draadklem en steek de kabel terug. Draai de moeren licht aan. Waneer u de lus extra wilt versterken is het aan te raden een kous te gebruiken. 
2. Leg de kous in de staalkabel en plaats de 2e draadklem. draai ook deze losjes aan. Zorg hierbij dat het uiteinde van de kabel, ook wel het dode einde genoemd aan de bovenkant in de draadklem zit.
3. Plaats nu ook de derde draadklem draai ook deze losjes aan. Vervolgens kunt u met een schroefdop of schroefmachine alle klemmen strak aandraaien. Bij omgevingen waar veel trillingen kunnen ontstaan is het aan te bevelen een borgmiddel te gebruiken. Hiermee kunnen de moeren niet lostrillen.


Geen lezer? bekijk het onderstaande filmpje: