Patented stainless steel Terminal
(for 6mm steel wire rope)
Very unique steel cable terminal, european patented. This terminal has several components merged.


Ps. only use stainless steel wire rope. This is 7x7 strict, which makes the clamping optimal.
Pull of terminal : 1200 kilos
Pull of screw : 850 kilos
burst load : 2180 kilos
Clamping force : 1500 kilos
Confirmation : up to 35 degrees

tested by the University of Navarre(escuela de Arquitectura Laboratorio)
.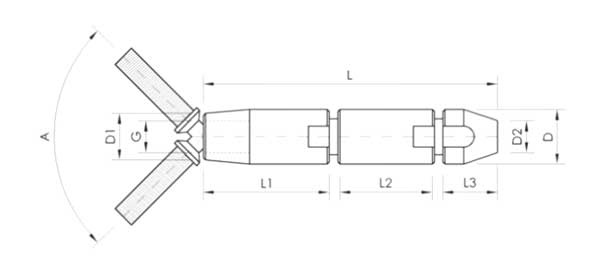 The terminal as thread tensioner.
As shown in the picture, the terminal can be unscrewed a bit.
After the stainless steel cable has been attached, it can be tensioned.

Above a number of possibilities so you can work with the supplied ball bolt but also with a normal M8 bolt.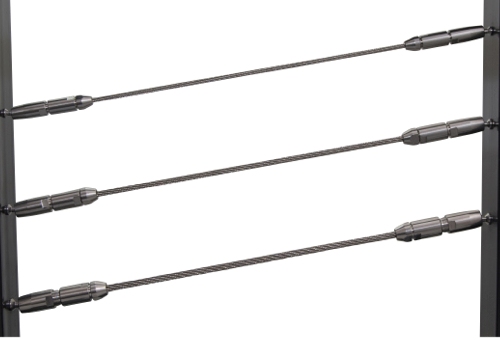 Above example shows a fence or railing made with the patent terminal.
As well as fixing and tensioning can be done without any special tools.
This stainless steel terminal has very fine metric thread on one side it is equipped with a bolt with ball joint, so the cable can also be stretched diagonally up or down. The terminal is also a swageless thread tensioner, which means that work can be done without pressing tools. This terminal is suitable for rvs steel wire rope with a thickness of 5mm. Everything can be installed with a simple key.</ span>
On one side of the terminal a wire rope 6mm can be inserted. Due to the fine threads a high tensile force is created here. Once the cable has been inserted, it can be clamped by tightening the terminal, no special tools are required. This can be done with open-end spanner 13. On the other side a stainless steel bolt m6 can be screwed in, but one can also screw in a
gaffel
. Everything can be combined with this as long as the wire is
M
8is.