Railing set 4mm stainless steel
Railing set for making fencing around balcony, garden and swimming pool.
No special tools required
Can be used horizontally, vertically or diagonally
High quality 316 stainless steel
Perfect for making a cable fence
Suitable for both indoor and outdoor use
H=9.2mm
the peanut thickness = 4.8mm
This Railing set consists of 2 parts. One on the left and one on the right. In this way the thread turns against each other. This brings the cable to tension. This move can be combined with 4mm stainless steel cable.
Size H=9mm
The set has left and right threads (M6) to tension the cable.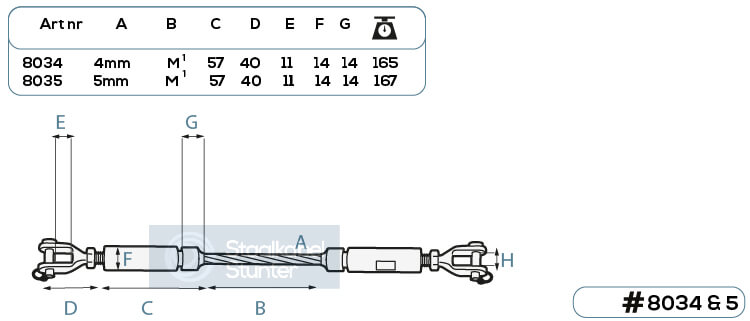 Installation instruction
1. The railing set consists of 2 terminals/tensioners, one on the left and one on the right.
2. First attach the terminal to the eye
3. The 2 small conical moulds provide a firm fixation.
4. Pass the cable through the front part and slide the conical parts on the cable.
5. Push the conical parts with the cable into the terminal
6. Make sure that the cable stays under the conical parts.
7. Fasten both parts by screwing
8. Continue tensioning the cable with an open-end spanner
9. Enjoy your view for years with this beautiful set