Hanging kit 8 is a super handy set to hang up anything FAST and with a few actions and minimal tool usage.
The steel wire rope has a thickness of 1.5mm and a length of 1 metre
.
Maximum weight: 10 kg
Test your construction by slightly overloading it during installation.


(this is a static weight, no rights can be derived from it)
The set consists of 3 parts:
1. The ceiling mounting unit.
2. The steel cable for hanging at the right height.
3. The self-clamp with eye and with 4mm screw end.
The self-clamping mechanism allows you to flexibly correct the height before and after suspension.
Step 1:
You determine the correct location for the ceiling mounting. The fastening unit consists of 2 parts and is unscrewed for fastening.
Step 2:
This is where you attach the steel cable in the unscrewed part of the fixing ring with the thick solder end.
Step 3:
Then take self-clamp with screw end and pull the other end of the steel wire rope through the self-clamp. Pierce the cable all the way through so that it passes through the eye of the self-clamp. Then extend the cable to the desired length.
The steel wire rope can be easily released from the self-clamp by pressing the cable holder down.




We got a nice picture sent in from Weert
This was where the suspension kit was used to hang lighting above a aquarium:

Thank you for the fast delivery. I hereby send you the result of the hanging kit I used to hang the lights of my seawater aquarium.

Momorrow the cake comes this way we can celebrate buying our new home extra well.

With kind regards,

Khashayar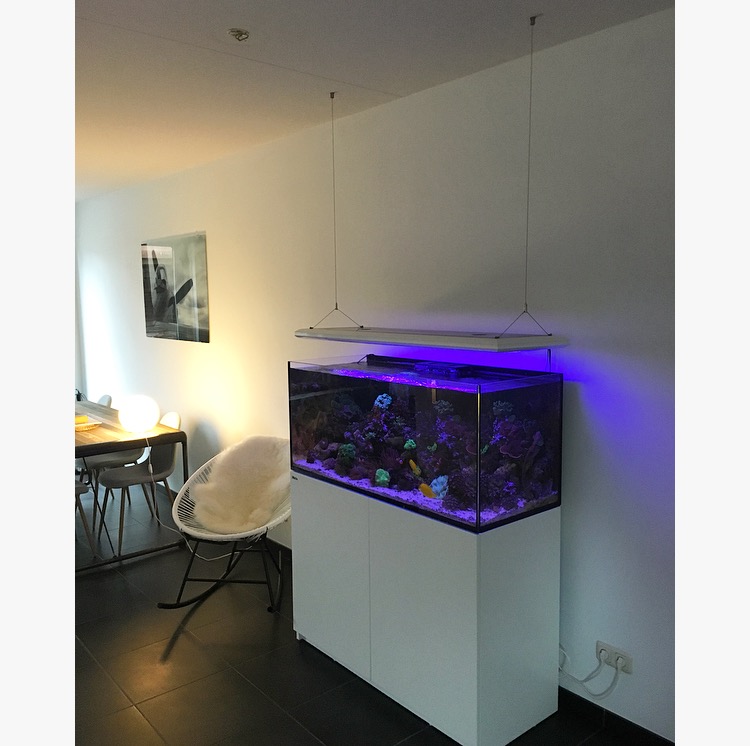 Snelle afhandeling, deugdelijk product, goede prijs. In 1 woord top!
Snelle levering! Eind van de middag besteld, volgende dag begin van de middag binnen, en netjes verpakt. Ga zo door! Over de kwaliteit van de ophangset kan ik nog niks zeggen, maar ik heb de producten ontvangen zoals beschreven op de website!
Doeltreffend!
Netjes geregeld.