Cable clamping pliers and cable cutter 2 to 5 mm
TIME WITH FREE BITSET!
Cable clamps with rubber handles for pressing wire clamps for steel cable with a thickness of 2 to 5mm. With extra hardened jaws.
Clamp pliers and cable cutter in 1.
The pliers have a length of 60cm /24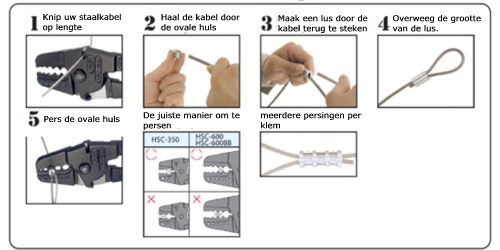 or download the pdf instruction document for the
pressing wire clamps
. (493kb) pdf
Does your steel wire rope have a fibercore? In that case, the cutting function may not work properly.
In this video you can see how you can fix this
Tuning the pliers
.