Rvs Napoleon fork
Terminal for stainless steel wire rope
Safe, reliable and without any special tools for pressing steel wire rope
This is the fastest pressing system on the market. Ideal for work in less accessible areas. Secure with a simple open-end spanner and still create a high-quality design.
Aisi 316/ 14 quality
Available for 3, 4 and 5 mm steel cable
Concrete part in one piece
Very small version, so maximum visibility
Operation:
This small fork terminal has a conical interior. By turning the head on the terminal, the cable gets stuck. By pulling on the cable
the cable becomes even tighter.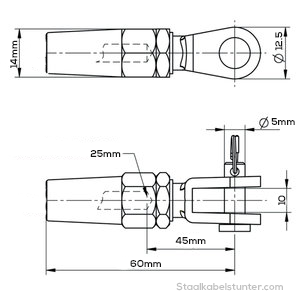 Material: Stainless steel Aisi 316 fork
These products have not been developed and made as attachments or lifting accessories.
Rvs gaffel terminals -Terminal stainless steel