Fence staples 600 pieces
Easy to process fence staples, on strips of 30 pieces - 20 strips in box.
Simple fencing pliers for demanding work such as attaching protective nets and for decorative purposes such as closing bags. Jaw clips are bent around the tension wire and the mesh without the risk of injury as with bent wire.
Package contains:
1 ds Stapling a 600 pieces
The staples can also be used for the Fence pliers cheap and the Fence pliers with magazine.
.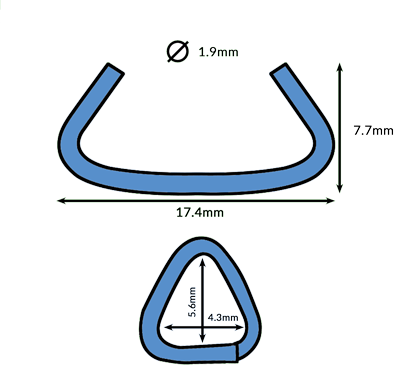 #hog rings #Fence straps #D wire rings
Eye staples are often used to attach entire fences. The aim is to do this in an effective and qualitative way. For example with the use of the fencing pliers. There are many advantages to using the eye staples for these purposes. You then have to think of benefits such as:
Fix different materials: Not only are fences effectively fastened, but there are other products with which this can be done. Frequently used applications include attaching protective nets or closing bags. Both decorative and actually functional.
Very much faster fastening: The use of these eye staples, also called fence staples, is up to twice as fast as with the old method. Especially when you choose to use the fencing pliers. This faster attachment is particularly useful when you want to place a large piece of fence or cloth. The time saved will then quickly run up high.
No risk of injury: There is also the increased safety when using the fence knees. This too, of course, is not unimportant. Thanks to the fact that the eyelet staples are bent along the tension wire, there is no risk of injury. This is different with an alternative method, such as when using curved wire.
All these advantages together ensure that these eye staples are superior to all other methods of attaching your fencing or protective cloths, for example. Not much surpasses a product that is better in so many respects than the alternatives available.
Do you currently need fence staples to optimise a particular fence construction? Then get them in the house now and get straight to work. Do you still have questions or do you need more information? Please let us know so that we can help you as soon as possible.