Patented stainless steel terminal 8mm
Very unique steel cable terminal, european patented. This terminal has several parts together.
Ps. use only stainless steel wire rope. This is 7x7 stranded so the clamping is optimal.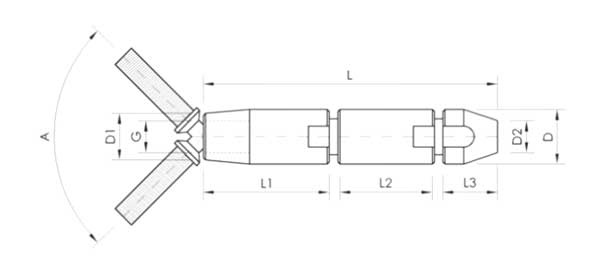 The terminal as a thread tensioner.
As you can see on the picture, the terminal can be turned out a bit.
After the stainless steel cable is attached, it can be tensioned.
This stainless steel terminal has very fine metric wire on one side it is provided with a bolt with ball joint, this allows the cable to be stretched diagonally upwards or downwards. The terminal is also a swageless wire tensioner, which means that you can work without pressing tools. This terminal is suitable for stainless steel cable with a thickness of 8mm. Everything can be installed with a simple key.

On one side of the terminal a steel cable up to 8mm thick can be inserted. Because of the fine thread a high tensile force is created here. Once the cable has been inserted, it can be clamped by tightening the terminal, no special tools are required. This can be done with spanner 13. On the other side a stainless steel bolt M8 can be screwed in, but it is also possible to screw in a single-hole thread. Everything can be combined with this as long as the thread is M8.